By Zeus Beard
So yeah.. 48 hours on that theme wasn't easy.
This should be a pretty tough but very finishable platformer.
All titlescreen, cutscene, gameover and the end game animation are by my 11 year old daughter (proud dad). She is also responsible for the game superb voice acting playing both Zeus and the Robot (even prouder).
She even helped with game design, and though up the control invert idea.

------------------Only One.----------------------
1 - So we thought a bit about the theme of only 1 and our first decision was only 1 player character, with one life.
2 - Our next decision was to allow the player to only run in one direction adding to the challenge. This is how we came up with the Zeus concept, if you turn the wrong direction you eat lightning. This also allow us to do all the silly camera stuff to throw the player off etc...
3 - There is only 1 level, inside of this level I built the actual game level, all the menu's (in Unreal I normally have the start, end menus as other levels), it was fidgety and took awhile to sort out but in the end I thook the simply options and used pictures and Press 'E'.
4 - There is only 1 helpful pickup (time boost).
---------------The Unfinished-----------
A few things didn't get implemented like an easy way to exit the game sorry. Just press windows key and then click the x when you've got the mouse back.
I hadn't time to add in all the pickups I'd like so you get 2, time boost to save the character and control inversion which makes left go right and right go left.
Camera movements are instant instead of smooth because I again hand't time to implement this smoothly.
In game art is default stuff I got for free from UE/Epic.
Download
Click download now to get access to the following files:
ByZeusBeard.zip Windows
574 MB
Comments
Log in with itch.io to leave a comment.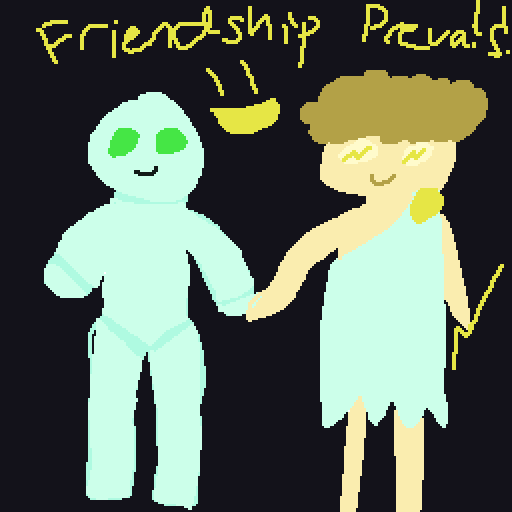 We got fan art!!!
Thanks to Jordan!
Screenshot your high scores here.
A Prize of nothing but my thanks for the best and the worst because I'm broke (and somewhat exhausted due to lack of sleep, 48 hours is tough).